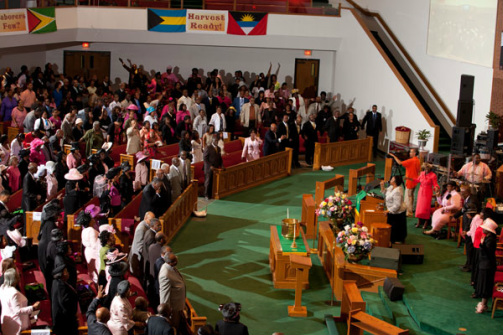 Women Of Royalty

How does today's Christian woman handle the overwhelming responsibilities of spouse, mother, career worker, home maker, church and community worker while maintaining a God-like disposition? Without a doubt, it is quite a challenge.

The Women's Department of the United Church of Jesus Christ (Apostolic) addresses these and other concerns of the spirit-led woman during its "Women of Royalty Conference" (WOR), as well as through its publication, "INSIGHT." The annual WOR forum provides seminars, workshops, discussions, counseling and anointed preaching all geared toward empowering its women for life and ministry)
History

The Women's Department of the United Church of Jesus Christ (Apostolic) was organized in 1965 under the leadership of Mother Calvertia M. Hoskins. Each year a fall conference was held in various locations in the Eastern and Midwest regions of the United States to inspire and promote the total development of the spirit-led woman, until 2004 when the conference began convening during the National Convocation.
The following women have emerged over the years to lead the national women's department:
Elect Lady Alberta B. Saunders
Pastor Betty Gregg
Mother Jeanette Thompson
Elder Esther K. Faulkner
Lady Winsome Saunders
Co-Pastor Ernestine Lewis
In the year 2000, Elder Esther Faulkner gave the department its own unique name, Women of Royalty (WOR).

Our Mission and Goals

Our mission is to ensure that each woman in the United Church of Jesus Christ (Apostolic) actively participates in the kingdom of God; demonstrates her transformative nature; moves beyond fear to purpose; edifies and nurtures one another in love; shares her gifts and talents out of the overflow of the Holy Spirit; and uses limitless faith in pursuing the vision of the United Church to become "mission-minded."
Seek and save those who are lost
Disciple emerging generations, regardless of culture.
Promote health and wellness across generations.
Demonstrate compassion for social injustices locally and globally.
Demonstrate stewardship through environmental awareness and care.